Health effects associated with Polycystic Ovary Syndrome and how dietary treatments can help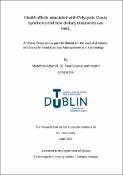 Abstract
The most common endocrine disorder worldwide is Polycystic Ovary Syndrome. It
has gained attraction in recent years due to more awareness and education concerning
endocrine issues. PCOS is one of the main causes of infertility amongst females of
childbearing age. PCOS is characterised by chronic inflammation, increased risk of
metabolic syndromes, hyperandrogenism and hirsutism. Menstrual abnormalities,
excessive weight gain and increased feelings of anxiety and depression are amongst
symptoms commonly reported by individuals with PCOS.

Evaluation of hormonal and inflammatory biomarkers and potential modifications to
dietary patterns that can help in the regulation of these biomarkers is imperative to the
management of this disorder. Many people are being influenced to follow a more
natural lifestyle including the addition of unprocessed natural foods as staples in their
diets.

The influence specialised diets including the Mediterranean diet, the ketogenic diet
and the macronutrient diet have all proven to be efficient in treating various symptoms
associated with PCOS. The MD proved to be the most beneficial long-term treatment
for those with PCOS and the incorporation on supplements into this diet provides
further regulation of inflammatory markers and hormone levels. Body weight was
most positively influenced by the KD, but this diet would be difficult to maintain longterm.
Collections