Exploring the impact of digital transformation in the pharmaceutical supply chain in relation to storage, marketing and distribution in Nigeria.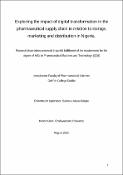 Authors
Chukwuebuka Ifeakandu, Kenechukwu
Abstract
The pharmaceutical industry is undergoing a significant transformation through the introduction of digital technologies into its supply chain. This research delves into the impact of this digital shift especially within the pharmaceutical supply chain in Nigeria. The study uses a mixed-methods approach, combining a comprehensive review of existing literature with data gathered through surveys and interviews. The primary objective of this research is to explore the various impacts of digitalization on the vital elements of the supply chain: storage, marketing, and distribution.
A comprehensive conceptual framework that blends two unique philosophical viewpoints: positivist and interpretive, guides the research. By combining these two philosophical
viewpoints, the research seeks to illustrate the complex web of effects created by digital transformation inside Nigeria's pharmaceutical supply chain.
Every stage of the research carefully incorporates ethical considerations. In compliance with the ethical criteria of modern research methodology, the privacy of data provided, participant confidentiality, and informed consent are upheld to the highest standard.
The data analysis employed both qualitative and quantitative approaches through surveys and interviews. By fusing both analyses in exploring the impact of digital transformation technologies across the three sectors, findings reveal that there is an under-deployment of digitization technologies in the storage and distribution unit, however, the marketing department has observed dramatic improvement in adopting digital transformation technologies. A total of 92 respondents and 3 highly distinguished experts across the 3 different sectors were actively involved in drawing this theoretical judgement and practical recommendations.
The findings of this study have great potential for both academic researchers and business professionals. The research is positioned to reveal a range of opportunities and difficulties by thoroughly examining the effects of digital transformation on storage, marketing, and distribution. The conclusions drawn from this study are anticipated to act as a strategic compass for those involved in navigating the constantly changing pharmaceutical supply chain in Nigeria.
PubMed ID
DOI