The Role of Net Zero in Reducing Food Greenhouse Gas Emissions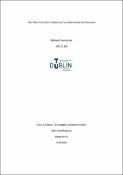 Abstract
Net Zero is a very topical subject across all sectors of society at the moment. It refers to the
balancing of carbon emissions produced from human activity. Many governments and
corporations are making commitments to achieving Net Zero by the year 2050. Despite the
food industry making strides towards getting to Net Zero there is significant changes required
if it is to get anywhere near Net Zero. Agriculture remains one of the biggest offenders
particularly looking at a country like Ireland where agricultural emissions are the largest
source of carbon emissions of any sector. The study seeks to understand the major causes
behind carbon emissions and how to negate this in achieving Net Zero. The Agricultural
impacts will be examined in both Ireland and globally, looking at causes of emissions along
with successful examples of mitigating emissions in achieving Net Zero. The Study will
examine potential technological advances that give hope for achieving Net Zero. There is a
detailed review on how policy makers look to tackle this issue and how that relates to the
food industry. There are many studies highlighting how Net Zero is perceived by both
individuals and their impacts from shifting to a more plant-based diet along with sectors in
the food industry in implementing changes that will allow them to achieve Net Zero. The
study is an overall review in how Net Zero can be achieved in the food industry for a more
sustainable and waste reduced circular model.
Collections