Evaluation of public policy interventions in the food retail environment on diet and health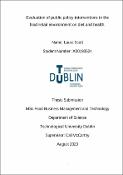 Abstract
Across the world countries have introduced a variety of public health policies to improve diet and nutrition among their populations. This study aims to understand best practices in public policy interventions and the impact they have had on diet and health within the food retail environment.
The following study identifies public health and nutrition policies across European countries which have proven to be most impactful. It identifies any advancements that have been suggested in literature for future policy makers to consider. This study focuses on policy which impacts the food retail environment explored through the marketing 4 P's. Food retail provides insight into consumers nutritional purchasing behaviours and is an extremely influential environment. This study will focus on nutritional policies which impact purchasing decisions in food retail stores.
The nutritional policies discussed were classified using the marketing "4P's" approach Price (taxes and subsidies), Product (reformulation and food labelling), Place (food retail) and Promotion (food retail advertising).
Price: The results are mostly positive while introduced differently, some countries tax sugar other countries tax salt. Usually, these taxes impact industry more and manufacturers absorb most of the cost or reformulate their products. Most subsidies target
children through schools not instore. The WHO have suggested new subsidies concepts which could increase consumption of fruit and vegetables. Research has suggested a red meat tax could positively impact diet and health.
Product: Product reformulation is widely suggested as a successful measure which will help reduce obesity. Research has shown a modest impact as voluntary reformulation is most common and often hinders real results. Food labelling, information and nutritional guidelines are extremely common but with meek results. Countries across North and South America have seen best results with warning labels on food and drink products.
Place: Retailers control the space in which food is sold and often use tactics to entice the sale of one product over another. Studies have shown that when space is prioritised for healthier food products instore consumption increases. Utilising various 'nudging' tactics may encourage the sale of healthier foods.
Promotion: Several steps have been taken to protect children across traditional media but regulations for social media are lacking. Research highlights the urgent need for an improvement on mandatory policies. Some in store measures have been taken by some retailers to protect children against enticing product packaging. Research suggests nutrient profiling as possible solution to regulate advertising.
All the "4 P's" have a varying degree of influence on the food retail environment and consumer purchasing decisions. Overall public policy was found to be most effective when mandatory guidelines and targets were set. Fiscal policies were more effective than informative strategies but met with the most opposition from industry. Education is a key interlinking factor to policy success.
Most European countries are engaged in implementing policies to improve diet and health. However, some countries including Ireland have fallen short in implementing effective policies across all the 4 P's. Currently, much work needs to be done to implement powerful public policy to improve diet and health to reduce obesity. This study has found that change happens when several mandatory policies are introduced which dictate food retailers' behaviour. The food retail environment plays a key role in consumers purchasing decisions and provides a key backdrop to educate consumers and bring about real change.
PubMed ID
DOI