Utilising Digital Strategies to Improve Personalised Medicine Delivery through Additive Manufacturing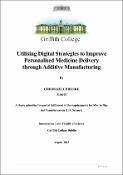 Abstract
The modern healthcare system faces a paradigm shift with the introduction of new technologies. A growing change in dynamic from a one for all manufacturing approach to a patient centred approach for healthcare has increased, with greater understanding in pharma gene theory and a slow rising demand for personalised healthcare services. Additive manufacturing is a well-established process in many industries, but relatively novel within the medical field. Its recent success in drug manufacturing along with the increased understanding of pharmacokinetics and pharmacogenomics allows for the convergence of 3D printing and personalised medicine opening new horizons for tailoring medical treatments to individual patients. However, the effective implementation of 3D printing in this context necessitates a robust digital strategy that encompasses design manufacturing, ethics, data management, and regulatory considerations.
This paper works to critically investigate the broader implications and possibilities arounds digital strategy implementation by healthcare organisations looking to adopt additive manufacturing technologies as their main digital tool in emphasizing personalised Medicare services. The study looks to review opinions from various sources of literature, from articles, journals, seminars etc idealising trends, events and limitation towards a working digital strategy promoting personalised healthcare. Evidence of review show a lack of digital identity or guideline necessary but provides practically to the manufacturing of personalised 3D printed drugs.
The paper works with a positivist study philosophy, developing a quantitative questionnaire to survey the opinions of industry experts around Ireland. It was an online questionnaire prepared using Microsoft Forms consisting of closed ended questions to a range of experts in the medical field, from doctors, nurses, Professors, Regulatory experts, and Business Directors. Opinions gathered was compared to secondary sources. The result of the study took considerations from both secondary and primary sources in generating a 4- step process in developing a digital path for organizations utilising additive manufacturing. The study also reflects on conceptual implementation ideas and the benefits and limitations faced in the process.
PubMed ID
DOI
Collections